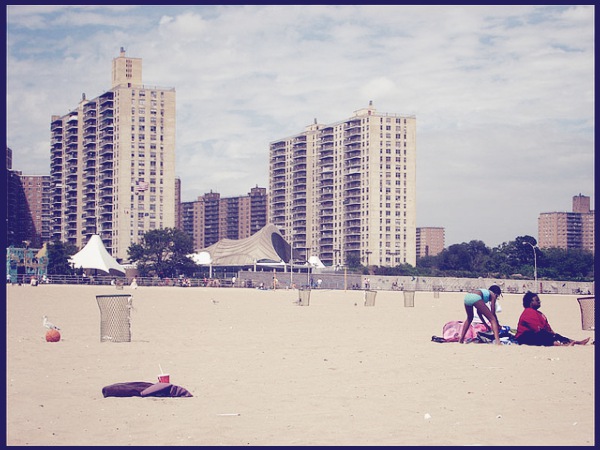 Forgotten Coney Island: A Post Hurricane Sandy Tour | Environment
(Excerpt)
The new $2 million lighting system
wowed the boardwalk revelers but
didn't help the struggling community
(Photo and caption not part of article)
"Only a few blocks down from the amusement district, where the sounds of the frolicking beachgoers and carnival games have come back with renewed vigor after a near-cataclysmic meeting with the superstorm, there is a different Coney Island that most tourists and beach goers don't see.
This is the Coney Island that continues to struggle to return to normalcy. The Coney Island where parks and playgrounds remain fenced off because of sinkholes or other damage done by last year's storm. The Coney Island where public housing tended by the New York City Housing Authority is wrapped in scaffolding and chain link fence; and where the library won't reopen until October. The Coney Island where the local hospital isn't operating at full capacity and where temporary structures containing furnaces and other critical infrastructure are still in full use.
"They say Coney Island is open for business. Sure, the entertainment district is, but no one talks about the parts of Coney Island where people actually live. They don't talk about the neighborhoods," said Ed Cosme, a resident who formed The People's Coalition of Coney Island to raise awareness about the problems in the parts of the neighborhood that don't normally draw tourists and bathers."